Permaroof Installation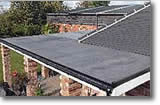 We are pleased to announce that we are now able to offer the Firestone RubbersCover roofing system. We are your only local registered and trained installers.
If you are suffering from a leaking flat roof, or need a new flat roof then as trained & approved installers we can provide a 100% complete supply and installation of this fantastic product.
Why choose EPDM Rubber for your flat roof?
Over 1 Billion Sq Mtrs: Of Firestone EPDM has been successfully installed – a testimony of pure excellence.
SEAMLESS – COMPLETELY RELIABLE: Most residential flat roofs are straightforward rectangles. This means we can install a single sheet of EPDM rubber to cover your roof. This means you don't have to rely on seams or joints to waterproof your roof.
LOW COST BEST MATERIAL AND ECO FRIENDLY TOO: The installed price of your roof will probably be similar to that of a quality felt roof and significantly lower than other "newer" systems. So you can have a flat roof to rely on at a fair price that is also the environmentally friendly choice for roofing too.
VERY LOW MAINTENANCE COSTS: There should be no reason to maintain an EPDM Rubber roof. So long as the deck can withstand more weight you can even use it as a garden or you can install paving or decking over it. All you will have to do is wipe clean the edge trims now and again.
NEVER PERISHES AND REMAINS FLEXIBLE: EPDM Rubber is UV and Ozone Stable so it never perishes. It stays flexible and so can move with the building unlike static installation systems.
SUCCESSFUL IN VERY COLD AND HOT CLIMATES: EPDM rubber is installed successfully in Alaska and in the Middle East. So UK weather is never a problem!
VERY SAFE INSTALLATION: Because installation is a cold lay technique there is no requirement for any heat.
OVERLAY = MONEY SAVED: You don't have to remove your old roof. EPDM Rubber can overlay virtually any old roof so long as your roof decking and joists are sound. This saves you money and saves the environment by reducing debris from the work.
RELIABLE INSTALLATION: Because only trained contractors can install our systems you are assured of a reliable installation from both the materials and contracting point of view.
Guaranteed for 20 years with a life expectancy of 50 years plus!
Flat roofs ● Extensions ● Garages ● Dormas ● Bay windows ● Large roofs ● Large seamless sheets up to 15 Metres wide by 60 Metres long