PVCu Doors
Our PVC-U doors are built and designed for long-life performance, even in the busiest households where they are used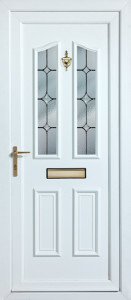 constantly. PVC-U doors require minimal maintenance only requiring an occasional wipe down. Furthermore our PVC-U doors do not swell, warp or crack like other materials such as wood.
An entrance door's primary function is security. Our doors come fitted with high-security locks and we have a wide choice of extra security features you can select from.
We can supply a wide range of styles and colours to complement your home.
You can choose from half-glazed or fully glazed doors, with panels and glazing in a range of styles and configurations. For wider openings attractive sidelight window options can be added to complement your door. Your door and adjacent side windows can be fabricated as a single unit to give a neat aesthetic look.
Examples of this range are available at our showroom.
For more details, brochures, quotations and advice call us on 01529 968 044 or come in and see us today!